Introduction
I wrote this artist statement one night in 2006, in Kamieskroon, Namaqualand.
I had travelled across to South Africa to help with a photography workshop. It was my first big adventure outside Aotearoa/New Zealand. I had spent the evening talking with friends and, as I made my way back to my accommodation, a walk of a kilometre or so, a fierce storm blew in from the Southern Ocean.
By the time I reached my room, I was cold, shivering and hypothermic. I crawled into bed. However, sometimes it is when we are at our lowest ebb that the Wairua comes knocking at the door to our soul. The words came at 3:00 am when the walls between the worlds are at their thinnest, loud and insistent, tearing me out of my misery, loneliness and self-pity. By 6:30 am they were out and down. Occasionally, when I have drifted from my path (my fantail nature), I will return to them.
They are as true now as they were then.
-September 2020
Artist Statement
"A human being is a part of the whole, called by us 'Universe,' a part limited in time and space. He experiences himself, his thoughts and feelings as something separated from the rest – a kind of optical delusion of his consciousness. This delusion is a kind of prison for us, restricting us to our personal desires and to affection for a few persons nearest to us. Our task must be to free ourselves from this prison by widening our circle of compassion to embrace all living creatures and the whole of nature in its beauty. Nobody is able to achieve this completely, but the striving for such achievement is in itself a part of the liberation and a foundation for inner security."
— Albert Einstein
Artists often talk about what informs them. By this they mean the influences that come to bear on their work and what they seek to say in it. Sometimes those influences are technical and process-oriented; sometimes they are to do with content, but they are always there. They inform an artist's practice.
I was born and grew up in the countryside, in the open places beyond the city. My first memories were of the wind, carrying messages from my mother, the Earth, from far away and pinning them to the needles of the pine trees outside my bedroom window. Some nights there were many notes left there for me to mull over, at other times they were relatively few. My imagination was obliged to fill in the gaps. So I came to love trees for the stories they had to tell.

We lived in a house set up on a hill. I would often rise early, and go out to the kitchen to share breakfast with my father before he left for work. He would lift me up onto the bench, and I would watch the sun away in the distance, rising like Venus, from the sea. I fell in love with watching the birth of a day, its transition from the mystery of darkness to the bright clarity of daytime.

I still do.

Then we moved to the city, and these panoramas were denied me for many years. My substitute became the night sky, stars, and watching the passage of the moon across the sky, glimpsed through the narrow and strangling arc of the gaps between buildings. I learned to see that darkness is the other side of light, that both light and shadow must coexist for each to have any meaning. Later, as I moved deeper and deeper into the arcane world of photography, I was informed by other things, or more correctly, by other artists.
I remember the first time I discovered the work of Ansel Adams. His numinous Clearing Winter Storm, Yosemite astounded me. He understood light and darkness. I wanted to make images as exquisite as that, images which drew the glory of Creation. It has taken more than two decades years for me to find my way back to that point. The great painter Paul Klee once said:" Art does not reproduce what we see, it teaches us to see." How true. It was when I read of Adams' contribution to the environment, how his photographs had helped to protect the wilderness, that a dim recognition began to dawn. But there were other roads to travel.

I moved through portraiture, documentary photography and commercial work, in each case informed by different artists. Constantine Manos, Fay Godwin, Gary Winogrand, Arnold Newman, Robert Adams, Robin Morrison, Stephen Shore; all had something to teach me. I absorbed the lessons and moved on, in each case taking a small part of them with me.

Then a friend, who was lightening his load preparatory to turning nomadic, gave me one of his books, a series of landscapes by a Japanese photographer I had never heard of. Takashi Komatsu had travelled many miles through his country on a project to photograph his river across four seasons. The images were breathtakingly perfect and displayed a reverence that was quite moving. When I read his statement, where he talked of his hope that it would somehow lead to them being protected, the wheel came full circle.

Photography can be many things. It originally came into being as a way of documenting the discoveries of the early European explorers and is by its very nature a documentary medium. Only later was it used for more expressive purposes. Komatsu was reaching back into a tradition as old as the medium itself. As was Adams. Their work thus tied into the very core of the medium, drew from its well. Now the light began to really glow for me. Once more, I found myself back on that kitchen bench, watching the light and shadow as the sun rose.

Now I began to be able to decipher the notes pinned on the trees.

All around me, the world was changing. The beautiful, the pristine, the eternal was being ground down by the relentless mill of human intention. In addition, I had found a photographic raison d'etre.

To photograph ugliness and despair is easy. Ugliness and despair want to be photographed; they jump up and down, their hands in the air, eager to be acknowledged. It is a strong photographer indeed who can take on this sort of work and not be infected by it, fall prey to its twisted charms.
Beauty is so much harder to work with. It is easy to fall into the Slough of Cliché, to produce something that is decorative or derivative or merely illustrative. To document an encounter with the land in a way that is both reverential and influential is so much harder.
Nowadays, as I walk the circle of my life, returning the place where I began, I realise that all along those messages blown down the mystery of the night have been whispering to me.
-Kamieskroon, Namaqualand, July 2006
Copyght secured by Digiprove © 2019 Tony Bridge. All Rights Reserved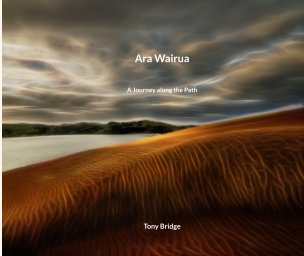 Ara Wairua A Journey along the… By Tony Bridge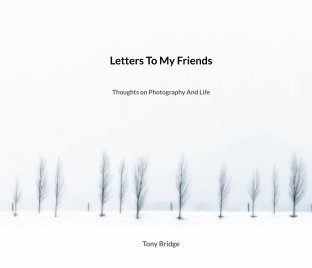 Letters To My … Thoughts on Photogr… By Tony Bridge
Book Preview Facebook Twitter Instagram Linkedin Pinterest
© Tony Bridge. 2019. All rights reserved
Website Made with
by Frantic Fantail
Pepeha
Tihei mauri ora
Ko IO te matua
Ko Tangaroa raua ko Tāwhirimātea raua ko Tāne Mahuta ngā atua
Ko te tiirairaka me te kahu me te tohora ngā kaitiaki
I te taha o toku papa
Ko Pukerangatira ki Tauwhare te maunga
Ko Hokianga te moana
Ko Punehu te awa
Ko Matawhaorua te waka
Ko Waiparera te marae
Ko Te Rarawa te iwi
Ko Tahaawai te hapu
Ko Paiaha te whānau
I te taha o toku mama
Ko Takitimu te maunga
Ko Awarua te moana
Ko Ōreti te awa
Ko Endeavour te waka
Ko Ngāti Wikitoria te iwi
Ko Groves te hapu
Ko Fox te whānau
Ko Tony Bridge toku ingoa
He tu poto tēnei
Ki te whakautu
Nga mihi kua mihia.
Tēna koutou, tēna koutou, tēna koutou katoa.
Ki ngā aihua maha
Haere, haere, haere.
Who I am
Behold my right to speak
IO is the Creator
Tangaroa, Tāwhirimātea and Tāne Mahuta are my gods
The fantail, hawk and albatross are my guides
On my father's side
Pukerangatira to Tauwhare is the mountain
Hokianga is the ocean
Punehu is the river
Matawhaorua is the canoe
Waiparera is my marae
Te Rarawa is my tribe
Tahaawai is my hapu
Paiha is my family
On my mother's side
Takitimu is my mountain
Awarua is the water
Ōreti is my river
Endeavour is my canoe
Victorian settlers is my tribe
Groves is my sub-tribe
Fox is my family
I am Tony Bridge
I stand for a short time
To speak to you
My respects to those who have spoken
Greetings, greetings to you, greetings to all of you
To those who have gone before
Welcome, welcome, welcome.