Artist Statement V2.0
Saint Francis of Assisi reminds us that our common home is like a sister with whom we share our life and a beautiful mother who opens her arms to embrace us. "Praise be to you, my Lord, through our Sister, Mother Earth, who sustains and governs us, and who produces various fruit with coloured flowers and herbs".
This sister now cries out to us because of the harm we have inflicted on her by our irresponsible use and abuse of the goods with which God has endowed her. We have come to see ourselves as her lords and masters, entitled to plunder her at will. The violence present in our hearts, wounded by sin, is also reflected in the symptoms of sickness evident in the soil, in the water, in the air and in all forms of life. This is why the earth herself, burdened and laid waste, is among the most abandoned and maltreated of our poor…. We have forgotten that we ourselves are dust of the earth); our very bodies are made up of her elements, we breathe her air and we receive life and refreshment from her waters.
-ENCYCLICAL LETTER LAUDATO SI'
OF THE HOLY FATHER FRANCIS
ON CARE FOR OUR COMMON HOME
Tauākī Whakatoi Tuarua
Tēna koe:
He kōrero. A story.
Somewhere out in the darkness, somewhere along the road, I stopped for a rest. I felt the soft breathing of the wind, and I felt its messages ruffling my hair. As I stared at the slumbering mountains in the distance, as I listened to the song of the river beside me, I began to understand the reason for my picture-making. As I snuggled up to my Mother, the Earth, it came to me that I was, in a way, her biographer, there to write down the stories she told me. This insight meant I had to quieten the chattering monkey in my head and to simply…listen.
My work is a record of those ongoing conversations. It is a record of the space between us, of the communication between Mother Earth's heart and mine. Because we are One and because I am of Her and she of me, we are bound by a physical and spiritual umbilical cord. She feeds, clothes and houses me, and she gives me purpose.
 My perspective of the relationship changed the deeper I journeyed into Te Ao Māori, the Māori world. Papatuuaanuku, Mother Earth, is a living being with whom we Māori have a tangible relationship. We are duty-bound to care for Her, to live in tune with her so that She will be able to nourish our tamariki (children) and mokopuna (grandchildren), and they will be able to feed on Her as well. And how could I do this?
How do you make an inner conversation visible? My way is to try and see with both outer and inner eyes, to find that place where surface and subsurface meet, where heart and mind can overlay each other.
My artwork process (for now) moves around like a bird on a wire, along a continuum between photography (surface reality) and painting (subsurface/intuitive), looking for a fusion of both. While I make my initial notes with a camera, it is in post-production that I can brush away the everyday labels and show what is beneath the surface. Thus every work is a hymn of sorts, a karakia (prayer). All my works find an individual path into expression and therefore life. Often (usually) the result will surprise and inform me.
The sacredness of this contract came to me one day while flying over Te Wehenga, the Cook River in Westland. As we hung and pivoted on the last fading edge of the daylight, an impression flashed at me: Te Atawharowharo O Papatūanuku – the Heart and Lungs of Mother Earth.
An inner light went on.
If the artist is to progress beyond merely being an illustrator and to making art with meaning and purpose, then, he/she must connect to a reason and justification for making art. All authentic art is the concrete expression of the soul of a culture. For me, those roots lie deep within taha Māori (Māori culture), in my connection to Papatuaanuku, my tupuna and the Kaitiaki (Guardians).
Ka mihi aroha ki a koe
Much love to you
Tony Bridge
April 2019
Copyght secured by Digiprove © 2019 Tony Bridge. All Rights Reserved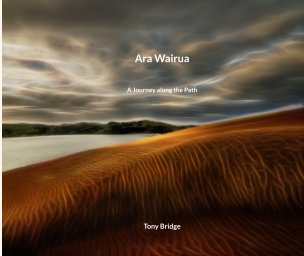 Ara Wairua A Journey along the… By Tony Bridge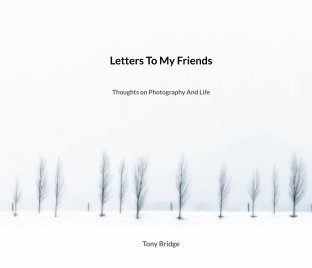 Letters To My … Thoughts on Photogr… By Tony Bridge
Book Preview Facebook Twitter Instagram Linkedin Pinterest
© Tony Bridge. 2019. All rights reserved
Website Made with
by Frantic Fantail
Pepeha
Tihei mauri ora
Ko IO te matua
Ko Tangaroa raua ko Tāwhirimātea raua ko Tāne Mahuta ngā atua
Ko te tiirairaka me te kahu me te tohora ngā kaitiaki
I te taha o toku papa
Ko Pukerangatira ki Tauwhare te maunga
Ko Hokianga te moana
Ko Punehu te awa
Ko Matawhaorua te waka
Ko Waiparera te marae
Ko Te Rarawa te iwi
Ko Tahaawai te hapu
Ko Paiaha te whānau
I te taha o toku mama
Ko Takitimu te maunga
Ko Awarua te moana
Ko Ōreti te awa
Ko Endeavour te waka
Ko Ngāti Wikitoria te iwi
Ko Groves te hapu
Ko Fox te whānau
Ko Tony Bridge toku ingoa
He tu poto tēnei
Ki te whakautu
Nga mihi kua mihia.
Tēna koutou, tēna koutou, tēna koutou katoa.
Ki ngā aihua maha
Haere, haere, haere.
Who I am
Behold my right to speak
IO is the Creator
Tangaroa, Tāwhirimātea and Tāne Mahuta are my gods
The fantail, hawk and albatross are my guides
On my father's side
Pukerangatira to Tauwhare is the mountain
Hokianga is the ocean
Punehu is the river
Matawhaorua is the canoe
Waiparera is my marae
Te Rarawa is my tribe
Tahaawai is my hapu
Paiha is my family
On my mother's side
Takitimu is my mountain
Awarua is the water
Ōreti is my river
Endeavour is my canoe
Victorian settlers is my tribe
Groves is my sub-tribe
Fox is my family
I am Tony Bridge
I stand for a short time
To speak to you
My respects to those who have spoken
Greetings, greetings to you, greetings to all of you
To those who have gone before
Welcome, welcome, welcome.