Letters to My Friends
Thoughts on photography and Life
About the Book
Letters To My Friends is a compilation of open letters to various photographers, written over 10 years and previously published on Tony Bridge's website.

This book is very much a reflection of thought over time, revealing conclusions made by an artist who has reached a maturity of thought, honed powers of expression and achieved genuine self-awareness.

These letters address questions put to him by photographers about their own photographic journey, all essentially asking how does a creative person discern their own place along the path from beginner to mastery?

Each letter addresses a specific question, and the nine letters, a few of which have never been made publicly available until now, attempt to provide a way for readers to measure their own progress on the road.

"Somewhere, somehow, along the way," Tony writes, "and for any manner of reasons, people began to ask my advice. I realised very early that it was a dangerous thing. I opted to try and be the best salve I could."

Tony brings 38 years of experience as a master photographer, artist and photo-educator to a book full of wisdom, insight and spirituality, one which will appeal to photographers at all levels; amateur, professional and fine art, and in fact, any photographer seeking to speak with his/her own voice.
Project Option: Standard Landscape, 10×8 in, 25×20 cm
# of Pages: 92
ISBN
Hardcover, Dust Jacket: 9781388915728
Softcover: 9781388915704
Hardcover, ImageWrap: 9781388915711
· Publish Date: Feb 05, 2018
Copyght secured by Digiprove © 2019 Tony Bridge. All Rights Reserved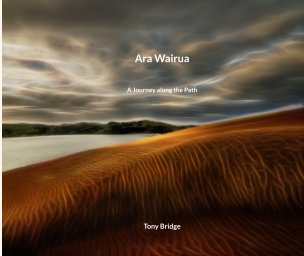 Ara Wairua A Journey along the… By Tony Bridge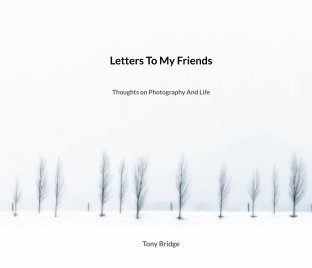 Letters To My … Thoughts on Photogr… By Tony Bridge
Book Preview Facebook Twitter Instagram Linkedin Pinterest
© Tony Bridge. 2019. All rights reserved
Website Made with
by Frantic Fantail
Pepeha
Tihei mauri ora
Ko IO te matua
Ko Tangaroa raua ko Tāwhirimātea raua ko Tāne Mahuta ngā atua
Ko te tiirairaka me te kahu me te tohora ngā kaitiaki
I te taha o toku papa
Ko Pukerangatira ki Tauwhare te maunga
Ko Hokianga te moana
Ko Punehu te awa
Ko Matawhaorua te waka
Ko Waiparera te marae
Ko Te Rarawa te iwi
Ko Tahaawai te hapu
Ko Paiaha te whānau
I te taha o toku mama
Ko Takitimu te maunga
Ko Awarua te moana
Ko Ōreti te awa
Ko Endeavour te waka
Ko Ngāti Wikitoria te iwi
Ko Groves te hapu
Ko Fox te whānau
Ko Tony Bridge toku ingoa
He tu poto tēnei
Ki te whakautu
Nga mihi kua mihia.
Tēna koutou, tēna koutou, tēna koutou katoa.
Ki ngā aihua maha
Haere, haere, haere.
Who I am
Behold my right to speak
IO is the Creator
Tangaroa, Tāwhirimātea and Tāne Mahuta are my gods
The fantail, hawk and albatross are my guides
On my father's side
Pukerangatira to Tauwhare is the mountain
Hokianga is the ocean
Punehu is the river
Matawhaorua is the canoe
Waiparera is my marae
Te Rarawa is my tribe
Tahaawai is my hapu
Paiha is my family
On my mother's side
Takitimu is my mountain
Awarua is the water
Ōreti is my river
Endeavour is my canoe
Victorian settlers is my tribe
Groves is my sub-tribe
Fox is my family
I am Tony Bridge
I stand for a short time
To speak to you
My respects to those who have spoken
Greetings, greetings to you, greetings to all of you
To those who have gone before
Welcome, welcome, welcome.